Intermediate/Expert RC Gliders
Of course, different types of rc glider and sailplane have different flight characteristics and at the outer end of the scale the sleek racing gliders can be thrown around the slopes at crazy speeds and in stronger winds.
These models are typically moulded from glass fibre and/or carbon fibre, and are commonly referred to as mouldies. They can be ballasted up (made heavier) by inserting metal weights into a special ballast tube inside the fuselage and/or wing, and this extra mass gives the glider more inertia and better penetration into the wind (i.e. makes them fly faster).
Such rc gliders can be very expensive and the faster speeds demand good reactions and co-ordination – this is not the sort of model you want to break due to inexperience!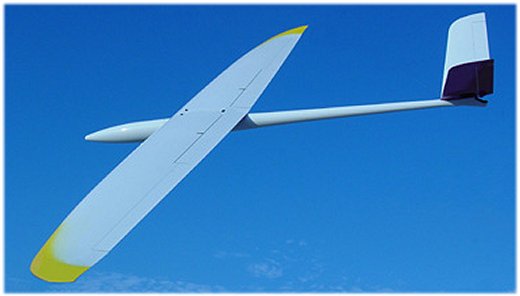 Above: a typical 'mouldie', although this one features a 'V' tail as opposed to the usual fin and tailplane.
And while on the subject of speed, did you know that the fastest radio control aircraft in the world is a glider?! Not a jet but an rc glider!Yep, the current world record has just exceeded 500 m.p.h in the sector of dynamic soaring.
So you can see that radio control gliders offer more than you might expect!
A big advantage that rc gliders and sailplanes have over powered radio control aircraft is that of flight duration; if the conditions are favourable with good lift during a rc slope soaring or thermal flyingsession then you can keep your glider aloft for a very long time. No need to land for refueling or replacing a motor battery pack, although you do of course need to keep an eye on the TX and RX battery levels to keep the radio signal strong.